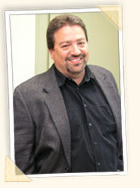 Spreading the Word
Ask Camillo Zacchia, PhD, how he sees himself and he'll say "I'm a regular guy". In truth, he's anything but. The Douglas professional chief of psychology is actually a talented psychologist and gifted storyteller who's spreading the word that mental illness is treatable and stigma is unacceptable. And his audience is growing.

Tapping the métro audience
Since Camillo—or "Cam", as he is often called—has always felt the itch to write, he was delighted to be asked last year to write a biweekly column on psychology and human nature for the French language daily Journal Métro. The paper is distributed free of charge to métro riders and is read by thousands of average Montréalers each week—exactly the crowd he wants to reach. Cam writes the column on behalf of the Douglas Hospital. "The columns are an effective way to educate the public and counter some of the myths about mental illness," he says. "For example some people still believe that schizophrenia is caused by bad parenting, or that a panic attack is a sign of insanity. These beliefs make people ashamed and often prevent them from seeking help." Although Cam's column is published solely in Journal Métro, he hopes one day to reach a broader audience.

Asylum idea dies hard
"Other myths persist," he continues. "Despite advances, especially over the past fifty years, many people still see psychiatric hospitals as asylums where the mentally ill can be locked away for years. "In recent years, the Douglas Hospital has made enormous inroads with the media and in the community, getting out the message that we are not an asylum, but a centre of expertise where people can receive effective treatment. "At the start of my career, many of my patients shied away from telling anyone they came to the Douglas for appointments. It's taken a lot of work by a lot of people to turn that around, but we're getting there." Cam works closely with the Douglas Communications and Public Affairs team, often supplying journalists with information and appearing on television and radio. He's also a sought-after speaker for everything from conferences to public information nights.

Just felt right
Even as a teen, Cam knew he wanted to work in mental health, "I remember being 16 and telling my girlfriend at the time that I would be a psychologist in seven years. Back then, I enjoyed talking to people about their perspective on life and existential questions. Becoming a psychologist just felt right to me."

Family life a priority
Cam grew up in Montreal in modest circumstances—the third son of Italian immigrants—and cites his father as teaching him the value of education, hard work and a balanced perspective. "Although I didn't see it as a kid, my dad is a very wise man. Uneducated himself, and having barely survived a prison camp in World War II, he taught me not to freak out or get discouraged by life's ups and downs." These days, Cam is a dedicated husband and father to four adopted children—of whom he's wildly proud—and he enjoys cycling and playing golf in his spare time. In spite of his busy schedule, he makes sure that each of his children gets "alone time" with him on a regular basis. "One kid wants to go to the go-kart track. Another wants to go to the movies. As long as we do it together, and I can fit in the seat, it's fine with me." "I advise my patients to balance family, work and play, and I try to be a good role model." No problem, he's doing just fine.