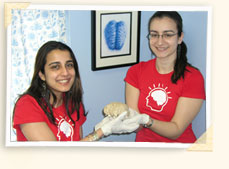 Student Friends Fight Stigma
Smart, curious, and enthusiastic, McGill graduate students, Katarina Dedovic and Mehereen Wadiwalla feel privileged to be working in the lab of Douglas researcher Jens C. Pruessner, PhD?a Canadian leader in brain aging research. They're determined to be part of the Douglas' growing role in fighting the devastating stigmas surrounding mental illness.

So it wasn't surprising that they agreed to lead the 2006 Brain Awareness Week (BAW) campaign, "We thought it would be amazing to bring the leadership of Brain Awareness Week back to the Douglas, especially since Douglas students were the first initiate the BAW campaign in Montréal", explains Mehereen. "For the past five years, it was led by other organizations. Because Katarina and I are good friends, we knew we'd enjoy coordinating the event together."
Along with 37 student committee members and other volunteers, they made the 2006 BAW campaign a huge success, reaching 8,500 students in 122 elementary and high schools. Its lecture series also reached an adult audience of approximately 400, bringing the latest in mental health research to the general population.
Inspired by Sonia Lupien
Both students originally showed no interest in pursing a career in neuroscience. As undergraduates, Mehereen wanted to be a lawyer, and Katarina a doctor. But their plans changed forever when they enrolled in McGill's Hormones and Behaviour course, taught by Douglas researcher and gifted teacher Sonia Lupien, PhD.
Mehereen recalls, "It wasn't so much what Sonia Lupien said. It was how she said it?with so much passion! She was a force of nature. She made neuroscience come to life. And she directed me to Jens Pruessner, for which I'll always be grateful."
Katarina had the same reaction, "She made neuroscience exciting. I realized that this was what I wanted to do with my life."
Bus talk
Now that Mehereen is a student at the Douglas and aware of the depth of its research talent, she wants to spread the word, "Too many people don't know that the best mental health research in Canada is happening right here."
A recent bus ride showed her how much work still has to be done, "I was riding the city bus to the Hospital, and overheard elementary students saying. "Oooooh…the Douglas! That's where the crazy people live!"
She continues, "When the bus stopped at the Hospital entrance and I stepped towards the door, a student whispered, 'Is she crazy?' The children stared at me through the windows as the bus pulled away.
" I want young students like these to understand that mental illness is nothing to be ashamed of and to think of the Douglas as an exciting place?where mental health discoveries are being made."
Many youth affected
Katarina is also eager for change, "I emigrated with my family from Yugoslavia in 1995. Partly due to the war, Yugoslavians of all ages, including a lot of young people, have been suffering from mental health disorders. I see problems here in Canada too. Many young people aren't sure what the future holds and feel depressed and anxious."
Like many of her generation, Katarina knew a student who committed suicide, "She was just a bit older than I was. She didn't get the treatment she needed. I thought, 'Okay, it's time to get involved.'"
Stigma in academia
" When it comes to fighting stigma, "adds Katarina, "it's important to point out that it's not just a problem with the general public or in the corporate world. It also exists in academic circles. Some teachers, for example, can be very standoffish if they hear that colleagues or students are taking antidepressants."
Don't hide problems…
Both Katarina and Mehereen encourage people with mental illnesses to ask questions. "Fight the instinct to keep your problems to yourself," encourages Katarina. "Talk about them with your doctor or other healthcare professionals. There's so much that can be done to help."
To those who encounter people with mental disorders, Mehereen suggests, "Be empathetic. Don't become impatient and expect affected people to simply 'get on with life'. Too often, society views people with mental illnesses as a burden."
Excited about the future, both students are determined to make their mark in neuroscience. Mehereen says, "I want to know that my career will make a difference, that I will make an impact on the world," and Katarina nods in agreement. Don't doubt it. They will.
Katarina and Mehereen wish to thank all BAW campaign volunteers, including Douglas students Irina AlKhairi, Diala Arzouni, Vincent Corbo, Erin Dickie, Philippe-Olivier Harvey, Aleksandra Lalovic, Valerie Leduc, Catherine Lord, Kelli McAllister, Matthew Menear, Lindsay Naef, and Leora Yetnikoff, as well as the strong support provided by supervisor Jens C. Pruessner, PhD, and the Hospital, Research Centre, and Foundation staff.